Recent progress
Hi all,
I started trying to investigate what was causing the dark spots on the fluorescent tube. I haven't reached any conclusions as of yet, but have concluded that more measurements need to be taken, specifically the fields going on in between the coils.
What I am particularly interested in is the mechanism of how the illuminated plasma propogates down the fluorescent tube if only one end of the tube is in a strong enough field to start ionizing the gas. I don't have much of a chemistry background here so I can't really comment on the mechanism of plasma ionization but I assume the dielectric field is imparting some of its energy to the electrons in the gas somehow. Then when some of the gas is ionized, the excited electrons start to excite other electrons to spread the plasma to areas where the e field wasn't strong enough to ionize the plasma on its own. What baffles me is how this propagation can be halted in certain interference spots. Maybe the dielectric field is polarized in the dark areas in such a manner it repels approaching electrons?
After doing some research I'm pretty sure we're dealing strictly with near field radiation here, considering the short distance of coils (~2 meters) vs wavelength (~ 160 meters). By near field radiation I mean dielectric and magnetic fields that are still coupled to their metallic source, not existing freely in space. Far field radiation implies electromagnetic waves propagating on their own, uncoupled from their source. Apparently there is more than just near and far field radiation, there is also a middle transitional field called the Fresnel region, that is a combination of both near and far field radiation. There are specific distance delineations between the 3 regions related to the wavelength of the RF emitted. Which region you are in mainly affects the phase between the magnetic and dielectric fields. With near field being purely reactive (90 degree phase relationship) and the electric and magnetic fields being in phase (in time) in the far field. The cutoff of strictly near field radiations is listed as about lambda over 6, or around 25 meters. I think its pretty safe to say that we are dealing with strictly near field behavior (since the coils are only 2-3 meters apart max.
Since it is near field radiation, what determines field strength at a given point? Is it the compilation of both magnetic and dielectric strength, or does it refer to the dominant field, or is it taken as one of the fields? I don't know the answer. With far field radiation the magnitude of the dielectric and magnetic fields should be equal. What I would like to do is map out both the magnetic and dielectric fields surrounding the coils. I intend to get to the bottom of this!
I'm currently working on creating a better platform for the coils that includes a metric for the coil distance measurements as well as an X-Y grid for field strength mapping. I want to be able to map out the 3D dielectric and magnetic fields in space for a given coil configuration. I'm trying to think of the best way to accomplish this. So far my search for near field probes has yielded some incredibly expensive pieces of equipment, far outside my price range. I'm looking for some homebuilt options. It looks like a langmuir probe to detect the dielectric field would be pretty easy to build. There seem to be multiple options when building a magnetic field detector:
- single turn loop to measure the field in one direction: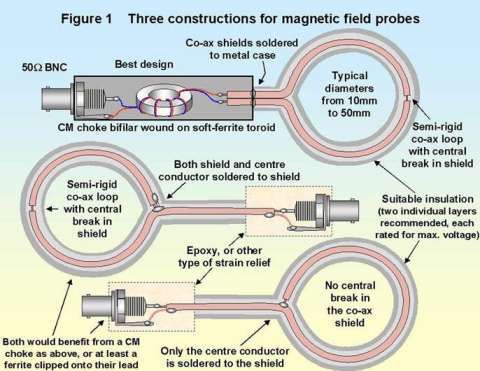 -single loop but with mulitple turns
-3 perpendicular coils to measure the magnetic field in all 3 directions:

One of the things that comes to mind is are we dealing with static or dynamic fields? Clearly dynamic fields are being radiated from the antennas but do their interference patterns form a standing wave/field? If so, that will change how the fields need to be measured. Another thing I've thought of is it possible to measure the phase of the measured field? i.e. what antenna that particular field was radiated from?
Any hints in measurement techniques would be greatly welcomed.
Also I think it would be really cool to measure the radiated fields of both sets of coils independently, and then measure them together and see if the superposition of results match. Interesting to see would be the field strength near the dark region of the bulb. Is it a strong electric or magnetic field or is it null? It could bring more light to whats going on there.