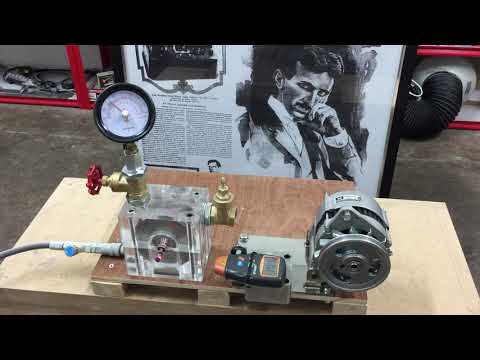 Our Mk2 Tesla Turbine 5" Stainless Steel 316 Rotor Warps at 682MPH and slows turbine down by rubbing on the acrylic casing.

I could smell it whilst I was watching through a blast shield! As it slows down the metal changes shape and allows it to speed up again until the pressure has decreased too much in the compressed air tank to allow acceleration.

The stainless steel 316 metal has not got a high enough yield and tensile strength for these pressures and speeds. This is also why Tesla recommended tapered discs. You can not taper stainless steel 316 easily. Forged discs would work well.

This is probably the fastest Tesla turbine since Nikola Tesla was alive. How did he do it? He used Nickel Silver which was the highest yield and tensile strength metal available at the time aka "German Silver", C770. Nikola Tesla also invented analogue dynamic balancing which is far superior to digital or static analogue or digital balancing. British Patent 186,799


To allow the rotor to supersonic speeds we will now use our hardened stainless 420HTP (surgical steel) rotor with tapered discs which is the full Mk2 design. Also we will use our simple design stainless steel 316 air bearings will enable:

1. Quiet running
2. Supersonic starting speed which will enable:
3. Continuous vacuum with no compressed air input - Self-Acting Machine
4. Ambient air tap for port (one that tap fell off) to turn machine into self running adjustable speed motor
5. Ambient air tap for diverging nozzle for rapidly converting atmospheric pressure and heat to distilled water. Dehumidifier on steroids!!! I need to get the new rotor balanced and retest to show you the difference.

I expect it to be far superior in all the ways I have described.