Mit proves that energy can be created - and work can be performed by that energy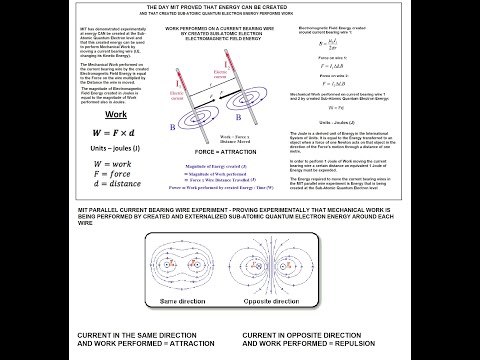 The Joule is a derived unit of Energy in the International System of Units. It is equal to the Energy transferred to an object when a Force of one Newton acts on that object in the direction of the Force's motion through a distance of one metre. In order to perform one Joule of Work moving the current bearing wires an equivalent one Joule of Energy must be expended.
The Energy required in order to move the current bearing wires is being created Sub-Atomic Quantum Electron Energy. Energy (J) is defined as the capacity to do Work (J). The formula for Potential Energy depends on the Force acting on the two objects or wires in this case.
In the MIT parallel wire experiment the Source of the Potential Energy and the Force acting on each of the two wires is equal to the strength of the Electromagnetic Field Energy created around each current bearing wire and the distance between the wires (r).
The magnitude of Energy CREATED is equal to the magnitude of Work PERFORMED both (in Joules) as it takes 1 Joule of Energy to perform 1 Joule of Work. OK so WHAT IS THE SOURCE...? The ENERGY SOURCE is an Electron when it is caused to move as a result of a Potential Difference (or Voltage) when applied to the current bearing wire...
So how is Energy Created around a Current bearing Wire and how is Work performed with this created Energy? Electromagnetic Field Energy is created and externalized around a current bearing wire when: 1) An Electron - which creates an Electric Field is caused to move inside the wire when an Electromotive Force (Voltage) is applied to the wire. 2)
The moving Electron (electric Current) then creates an Electromagnetic Field around itself which is then externalized around the current bearing wire. 3) The created and externalized Sub-Atomic Quantum Electron Electromagnetic Field Energy around wire 1 performs Work on the wire when it interacts with with the created Electromagnetic Field Energy around wire 2 and vice versa.