https://youtu.be/Az0v79-vG_E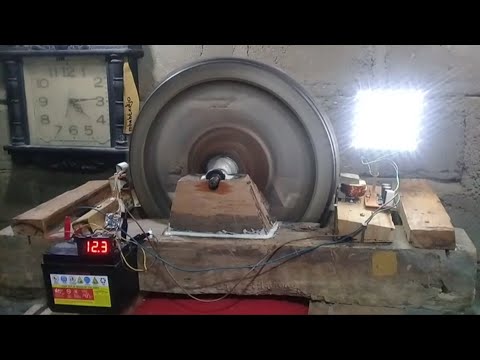 The author from Indonesia did not bring his installation to its logical conclusion, "stumbling" precisely on the calculations and design of the generator. His mistake is that when changing the parameters of the generator, he did not change the rotor, leaving the magnetic induction in the same place, but lengthened the wire, reduced its cross section. As a result, he received the necessary EMF (no-load voltage), but excluded the possibility of obtaining the required current parameter in the wire. It was necessary to increase the number of magnets on the pole, change the design of the rotor, or add another (or more) block of the accelerator module, using the PUSH-PUL technology, in order to increase the speed of rotation of the rotor - a massive flywheel.
EMF formula: E = B * L * V;
where: B - magnetic induction (in teslas); L is the length of the conductor (in meters); V is the rate of change of the magnetic induction on the conductor (meters per second).
Current formula: I = (E - Ubat) / R + rZ + r0;
where: E - EMF of the no-load phase (in volts): Ubat - operating voltage of the storage battery (in volts); R, rZ, r0 - resistances of the loop, load and phase wires (in Ohm)
The second formula does not change, we use it to calculate the current, i.e. battery voltage and resistance cannot be changed, only one EMF parameter remains. To fulfill the condition for changing the conductor length parameter (in the first formula), in the corresponding case, it could not be changed, or it could be performed with a large cross-section to preserve the phase conductor resistance parameter r0 (in Ohms), but the volume of the package did not allow this. There are only two parameters left: B - magnetic induction (in tesla) - increase, this means adding magnets to the stack, or V - the rate of change of magnetic induction on the conductor (meters per second), adding one more or other accelerating nodes of the PUSH-PUL system. ..
Perhaps in the future, the author will still achieve the correct calculation of his design and receive a self-propelled gun with recharging the ballast battery.
If you read what the authors of EARTH ENGINE (Gravity Generator) from the USA say about their design
"We 'push' a large mass by manipulating the magnetic field. When the two opposite sources of 'fuel' (magnetic fields) driving the flywheel mass are in the correct position, the engine generates a small electromagnetic charge, about 52 W. This charge allows the opposing sources of fuel." "see each other and can create a significant force to rotate a large mass of the flywheel. This inertial force of the rotating mass is then transmitted through a separate magnetic link to a generator, which generates electrical energy. This force can also be used mechanically."
(Source:
https://ie.energy/about.html
)
It is clear that the principle is the same, but a different, larger-scale design. All this can be done independently, including counting
http://rakarskiy.narod.ru