Have You done this test?
Have YOU done this test?
If You approach a North Pole* from ANY Kind Magnet to ANY kind Piece of steel, NO matter the shape, Type or whatever, let's just say A FERROMAGNETIC MATERIAL of ANY Kind...You will ONLY get a NORTH POLE there period.
No South anywhere you look, test, seek, search or whatever.
*North just as reference "color"...BUT it would do it with South as well.
Why don't You do like just Tachyoncatcher did...went to his workshop and check it out...then convince yourself before you keep spreading the wrong info here?
The Polarity INFLUENCE (North or South) spreads, expands in Space to a Ferromagnetic Material by trying to expand that 'particular' polarity type into that ferromagnetic material. No Opposite Pole will manifest anywhere in that piece of iron.
It is seen better on more sophisticated equipment, like Viewing Film, Ferrocell Lenses or even a Color CRT.
Below: A Neo Cylinder half way under Viewing Film, could see the Dielectric Plane in green separation, Bloch Wal or whatever you wanna call Neutral plane...as well as both poles defined in black.
[IMG]
[/IMG]
Below: A piece of Iron Cylinder, same mass weight, separated by a piece of plastic as the "Gap", attached to the same exact Neo Cylinder.
And...You can clearly see the North Magnetic Pole expanded towards the iron mass, WHILE the South Pole REMAINS exactly in the same place/space:
[IMG]
[/IMG]
Now, the same magnet, same iron cylinder ...same results, except different colors...this time under CRT screening:
First, the Neo Cylinder by itself:
[IMG]
[/IMG]
Now, the same iron cylinder attached to same magnet:
[IMG]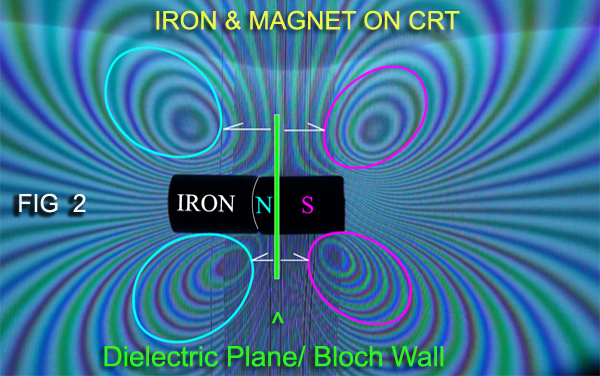 [/IMG]
Convinced?...No?...Then You do it!
If You guys keep repeating the same old school based on iron particles spread over magnets...plus all the surrounding "theories" based on its readings...then no one would be able to enlighten you BUT Your own selves and a "wish" to make it happen.
Only knowing the Real Magnetic Spectrum, behavior related to Ferromagnetics, or diamagnetics, etc,etc could ever bring you whatever the old establishment have been repeating is "impossible"...or a "Myth".
The only myth is what they have been teaching Us all for 184 years.
To me what everybody is saying ,with this system ,is it will balance.
There has to be some form of change, or it will just balance
If not won't it just lock up?
artv
The System starts by being BALANCED FIRST...WE MAKE IT BALANCED...A VERY Perfect balancing untill No Cogging is felt...Free wheeling.
A Modular Structure consisting of Two Opposite Interactions, where each INTERACTION (Attract-Repulse) CANCELS out in a perfect ZERO.
The Ramps Angles (Rake) will either shunt one side and generate an "extra" attraction favoring rotation...Ramps create a Positive Unbalance to Our previous Balance.
If We have a Two Pole Motor and Ramps... working by showing rotor Passing Stators Bisectors towards rotation
in a noticeable acceleration and in such displacement angle that would start Interacting with the Next Module we set, in the "due coming positioning angle"
...then we are fine to keep going. Now, once we add more "Modules", the Ramps size, plus Adjustment Plus ANOTHER BALANCE MUST BE MADE AGAIN...and so on and on, each time we keep adding Modules.
It WILL Work.
Ufopolitics