02.03.2013. this guy started the thread with this question:
Will compass work in Southern Hemisphere?

My wife and I will be going to Patagonia next week for ten days. From there we go to Antarctica for three weeks. Will be doing some hiking but just day stuff. Here is a question for all of you as I can't seem to find a straight answer on the Internet - does a compass work in the southern hemisphere? Will the magnetic needle still point north? This is not a huge issue for me but just wondering. Thanks for your help!
03.25.2013. after he had come back he wrote this:
I just got back from my five week Patagonia/Antarctica trip last week. Just before leaving for the Antarctica segment of the trip, I did an experiment in the city of Ushuaia which is located on the southern tip of South America. It's latitude 54°48′south. I visited a local park that had a large decorative compass made out of stone. I used it to get my north, south, east, west bearings. Side by side I set up a North American compass, a global compass, and an iPhone compass. All three pointed in the exact same direction - north (see photo below). I mentioned my experiment to a guy I met from Australia. He said, "Of course they pointed north. A compass will point north unless you sitting on the South Pole..." As I mentioned in my previous post, this was not a huge issue for me but it was fun finding out the answer.
Here is the picture of his compasses:
How do you comment that?
I would just like to add this:
Let C, fig. 87, represent a dipping needle on the "equator"
of a globe. A mere inspection of the diagram is sufficient to make it demonstrated that the needle C cannot be horizontal, and at the same time pointing towards the north pole N. If a ship sailed east or west on the equator where the compass is horizontal, it is evident that its north or south end would describe a circle in the heavens equal in magnitude to the circumference of the earth at the equator--as shown by D, E, F.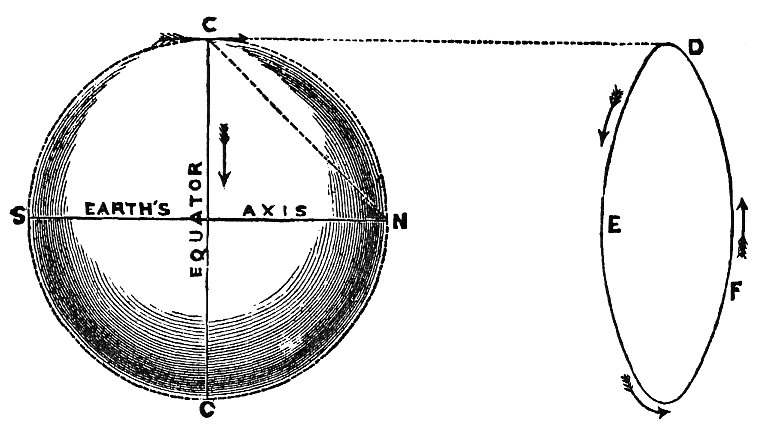 fig. 87
My point is that there is no south pole whatsoever!