Asymmetrical 22 Poles 2 Stators 2 Brush System
Hello @ ALL,
And of course to Prochiro who has this Armature set...
[IMG]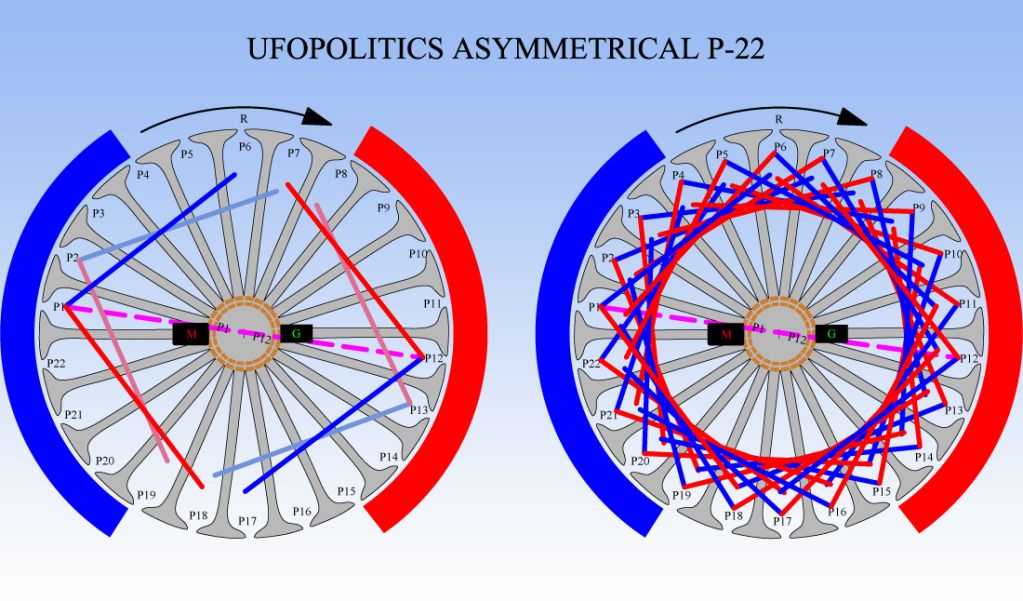 [/IMG]
It is based on the same P-12 Original configuration I designed for the 12 Poles Armature, but expanded to a "P-22"...
Note I am comprehending Five Poles per Coil, leaving two Poles, one above and one below free every Two opposed Pairs...like P1 and P12.
The Brush Magenta line could be moved towards P-22, to adjust-increase Torque and Speed, due to higher magnetic "Throw Out" forces (based on closer Stator to set Motor adjusted is North). Generator side will do proper reversal and assist rotation...as always on this Systems.
I figured Stator Area at approximate sizes...but they could be bigger or smaller...if bigger, Machine will increase all parameters...
Now Prochiro, since you have wound Stators, they could be re-winded using Bifilar Coils, as also to Pulse them...
So, borrow Bob's Oscillator...let's see if He will lend it...
However, this Design will perform MUCH Better when pulsed within a Four Stator-Four Brush Assembly.
Regards
Ufopolitics