Re: Ufo post 5826 Boldor 20 Pole winding ideas
OK, more strong eh? good, hoping I can get enough energy to get over the hump... I am thinking about grabbing the last motor over at my motor goldmine there, but it has an apparatus of some sort attached and they want twice as much for it. who knows, maybe order some extra brush pairs from the electric motor company for me and convert one of these to a 4 stator some day in the near future. Dreams of concatenating motor bodies and rotors and ordering a double long shaft at a machine shop... and my imagination runs away ....
I am going to guess on where you are saying the brushes go. How's this?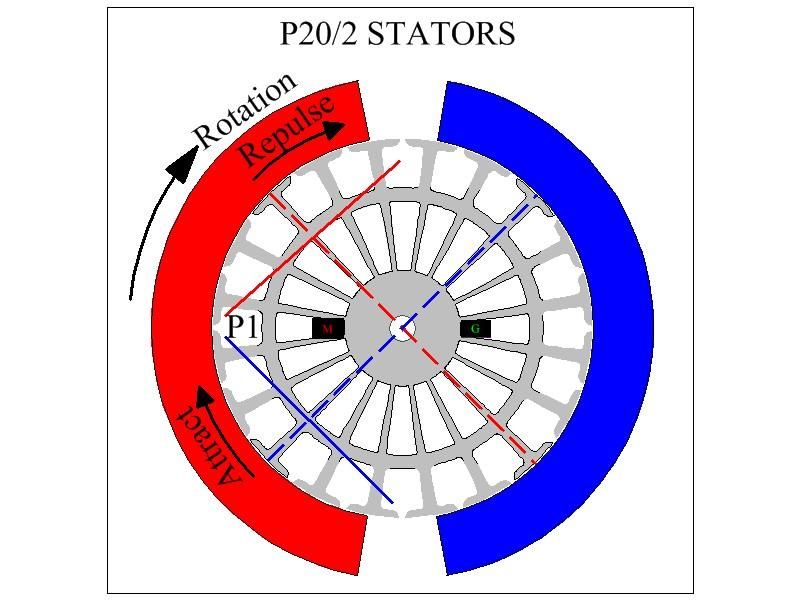 So I was planning to use as much wire as came off the symm rotor on these Baldors, since they were stuffed. I figured to put about 130' of quad filar at 2.5ohm per coil in the 5-pole designs, but started having my doubts about leaving the space in between subtended poles and getting as much wire. Now assuming I can get as much wire as the orig with this approach, it seems to me I will be dealing with 20 coils now, each one is likely to have .6ohms.
Ufo, would you say that I should try to go higher resistance per coil now with 20 coil pairs?
If I now go to trifilar 30g, that would probably raise it to 1-1.5ohms. It would be like jumping the single strand original 19ga. to up to maybe 22ga. or even higher since it would be trifilar 30ga. need to look at it.
FYI stators in diagram pretty close match to the Baldor
Sam