Hey Machine...
As soon as it breaks contact, hot current stops flowing so the hot south pole ceases. But cold still flows, since nature is the battery, and the coil is connected across it
. If we put a light in between n and s coil of p1 it would be on?,
As soon as it breaks contact Hot current
does not
cease flowing, this stage is very well explained in the Inductor behavior in switching DC/DC Converters...but I will try to explain it:
As soon as Hot stops flowing, (because an Off Time in DC/DC Converters is due to oscillation square pulses, in our Motors commutator/brush makes that effect when disconnected)
The Hot Magnetic field starts to Collapse...then Voltage "swings" to opposite terminals, reversing...trying to keep Current (I) constant...(that's what "they say") magnetic polarity reverses also (That I say...I have proven this fact in my First Thread, Machine)...But this is Hot effect, not Radiant...and yes, that reversal is "magnetically" weaker than the following energized Coil..or P2-P16...as also current is weaker at that stage.
If You get a light...in between N1 and S1 of P1 Coil...when it is idling...or disconnected ...you meant right?...light will be dim...
Does this set up poles on the coil, they would be opposite which would attract back to s1 and slow rotor? But, does radiant cause a pole to form, I don't think it would, would it, if we can't get hot from cold, can we get a pole from cold. If it does, hot is stronger so the repulsion of next coil p2, would repulse in a ccw direction, though hindered from cold .
That is exactly right...
The collapsing magnetic field from Hot is weaker...as it also "invokes" the Radiant Field, which is ALSO Opposite... in its downgrade stage, however, the faster the Motor runs...the less Radiant flow (more times On)...unless we apply a mechanical load to motor, then Radiant grows again, due to longer times Off.
There would be a hot voltage potential but no hot current, until we close circuit. We should start collecting as soon as coil leaves brush, or close to it,
Then hot would flow as coil moves through field, in same direction as input while coil is in s1 field, then where would current direction change, when coil bisector is between both s1 and n2?
[IMG]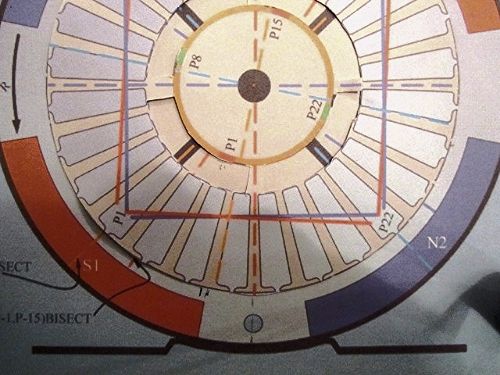 [/IMG]
Do you want to collect Hot?...then set collecting brushes closer to Input...
Do you want to collect Radiant?...then further away from Hot Input...
simple as that.
That is why I have written here many times...I want to experiment with the "closed circuit" of LC Parallel Tank in our Coils at armatures...so they keep swapping/exchanging energy (between Inductor to Cap and from Cap to Inductor) in their stages off without loosing potential or weaker currents.
where would current direction change, when coil bisector is between both s1 and n2?
Machine, like I have said many times here...that process does NOT occur like a switch...is a gradual stage, as I explained before in the beginning...voltage swaps, trying to maintain I (current) constant because of Hot collapsing field...
Or do we wait until p1 coil bisector, starts moving over n2 magnet?

Then we collect until p1 coil gets to field change of s2, coil bisector between
n2 and s2, or when pi coil bisector starts over s2 mag?
I lost you here my friend...sorry, have no idea why you keep revolving around same principle that repeats and repeats...for as long as it rotates...
So we need start using different brushes/collectors to feed dc caps opposite now or use ac caps?
Then use different collectors, which switch pole that collectors feed to caps.
So if we use ac caps we collect from when coil leaves s1 brush, until just before s2 brush. But with dc caps we switch polarity from positive s1 to negative n2 to positive s2. or just collect dc from a
90* quadrant that the p1 coil stays in while in n2 field
.
I have some magnetic field viewing film coming, and I thought of some experiments I need to do.
Sorry it's wordy, and no time to spell check, will check/correct later?
Machinealive
Machine...I recommend that when you get back home...(hope it would be very soon...
)...you start playing around with your set up...and finding the answers for yourself...
that, is the best way of getting to the bottom of this...and you have it all there my friend...
The way you have set the electrolytic (polarized) Caps is excellent...so whatever you DO...please do NOT take this set up apart till you Find Out and...You are sure of what went on there...so, please..."Don't touch that Dial"...
And, since we are talking about your set up...Could you draw the way you had ALL those batteries connected between 12V Oscillator feed plus...36 V FET's Source-Drain to Motor?
I have tried to figure it out myself...of how you've got 48V at Motor Drain (supposing that was what triggered the 9000 RPM's you've got)...and really...I am still not sure it could be possible...even, if FET's went bad...and shorted Gate with Drain...or Source with Drain...
Regards my friend
Ufopolitics