High pitch end noise
Wow, I knew I should have shut off my Imhotep battery desulfater/radiant energy charger I was running on a battery.
But as I prep things, I can see my Pentagon motor was using 30ga., and it was stuffed full. So I won't get any relief for conventional amperage ranges in regards to heating. I can see that Garry's Goldmines are a size bigger than radio shack's. I haven't dug to deep and may have posted it back then, Mar 2013. But I believe the number will be about 12' of wire. At about 10'/ohm, you can see that it will be about 1.2 ohms. My ohm meters are detecting a woeful 2.3, not even close. If I hold it for a while the digital sampling seems to bring it down gradually. But I think it is 1.2 ohm thereabouts. Hate to do a rewire if I am off, so may dig thru the old posts and records on my PC a little bit.
I can see that Garry was carrying a bit more of resistance, which would explain his off sweet-spot amperage of less than an ohm (
EDIT: I meant to say "amp"
) compared to my 1.2 ohm machine pulling in 1.25-1.5A. The wire only calculated resistance for that config would be about 1.8 ohm. And I bet they ran cool too, even off the sweet spot. Incidentally my Quad UP-10 trifilar had a calculated 1.2 ohms and ran around 120degF also. And around 1.2-1.5 amps also! Guess it all figures.
Here is a diagram showing the timing change needed in post 7850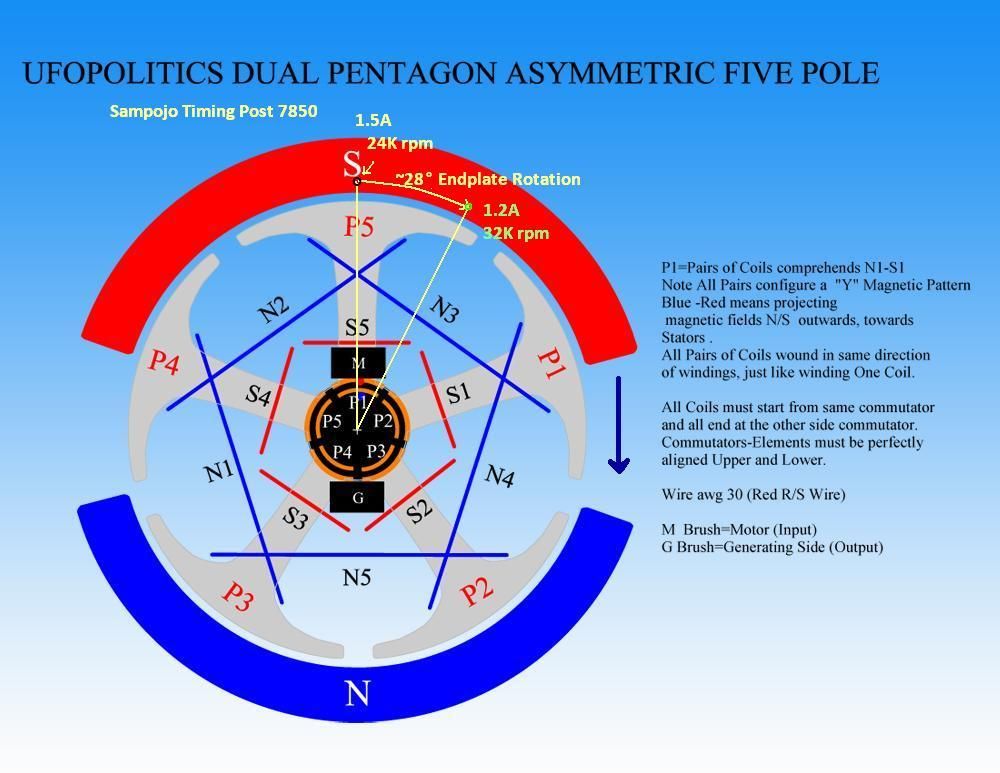 So @ufo, is 120degF bad for the magnets?
Taking an optimistic tact, running hot planning at conventional amperage might be the ticket if we get this Sweet Spot Drop On-Demand...
Carry on, Tesla soldiers!